Customized Specifications For Customers
Product Description
LA46 DC 24V Linear Actuator is High Speed Electric Linear Actuator, quality is reliable and stable. DC linear actuator is mainly applied to family nursing chairs, smart beds and electric bathroom chairs. Low noise motor screw material, noise level less than 52dB. The load capacity is 2000N. The speed can reach 23mm/s.
LA46 Micro Linear Actuators's stroke outer tube uses anodic alumina alloy tube, the inner tube uses anodic alumina alloy tube (stainless steel polishing tube can be customized).
The reducer adopts planetary reduction gear box, which has high efficiency and long service life.
LA46 DC Linear Actuator can be matched with the intelligent over-current protection module. It has strong expansibility and can realize the functions of load control and motor protection during the movement.
Optional Accessories
1. The distance between mounting holes can be customized.
2. The power cord connector can be customized.
3. Encoder can be configured.
4. Shrinkable inner tube: Stainless steel or polished aluminum pipe.
5. Front end connector is optional: miniature rod end ball bearing.
Technical Data
LA46 DC Linear Actuator | 24V Linear Actuator |
Micro Linear Actuator
Input Volatge:DC24V linear actuator
Operating Temperature:-10~40℃
Mounting Distance:S+285mm standard
IP Grade:IP65
Limit Switches:Internal
Operating Frequency:S2~10min
Scope Of Application:
LA46 DC Linear Actuator can be widely used in medical, furniture, home, electronics, power, machinery, metallurgy, transportation, mining, petroleum, chemical industry, lifting, transportation, construction, grain and feed processing and other industries.
Voltage
DC24V Micro Linear Actuator

No-load speed (mm/s)

4
6
17
23
Load force (N)
2000
1500
600
400
Stroke Length (mm)
50~1500 can be made to order
24V Linear Actuator

Outline Dimensional Drawing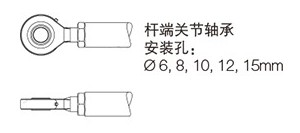 Keywords:
DC24V Linear Actuator | Micro Linear Actuator | Electrical Linear Actuator